What is a Referral Agency?
"Domestic Referral Agencies minimize the consumer's costs while maximizing the worker's income by outsourcing jobs to independent domestic workers who are registered under contract with the referral agencies."
"The Domestic workers work to their own schedule, utilize their own acquired knowledge to complete jobs and provide their own transportation. Depending on the needs of the Customer, supplies, and equipment are provided by either the customer or the worker. The workers provide professional domestic services, as requested by the customer, at the lowest possible cost. "
-California Coalition of Domestic Referral Agencies
Benefits to Clients
Security of Knowing that all Cleaners Have Been Screened and Vetted

In-person interview
Criminal background checked
Verified work status eligibility in the USA

Consistency of Quality with the Same Cleaners Coming Back Each Visit (Unless you Request a New Match).

Cleaners go through Reference Screening: 3 professional & 3 personal
Cleaners have Minimum of 2 years experience (4-5 year average)

Flexibility of Choosing to be Matched with a Different Cleaner for Any Reason.

You can also change your scheduled days and times with notice
No long-term contract, cancel with 48 hr notice

Save up to 40% Compared to Other Cleaning Companies.

Enjoy greatest savings with ongoing service, who else offers hourly rate discounts in Sonoma County?

Convenience of Customer Online Portal.

Update payment method securely
Request new service
Report a concern
Review previous invoice
Benefits to Cleaners
Flexibility with scheduling. Accept only the jobs that fit into their schedule so they can tend to the things that matter most, like family.
Choice of clients. Cleaners have the full ability to decline to work with any clients for any reason, ensuring a good match for both the client and the cleaner
Representation. Cleaners are supported by Dash's office staff to answer customer questions and schedule changes, allowing them the time to do what they do best: clean!
Pay: Cleaners have the ability to earn a much higher income compared to working on their own (with not enough clients) or working with a national cleaning company (with not enough income).
Freedom: Most business owners have to worry about all aspects of their business. Cleaners who work with Dash only have to worry about their cleaning supplies, getting to and from jobs, and completing the cleanings. We take care of the rest with phone and online bookings, scheduling, payment, tax forms, etc.
About Us
Dash of Clean Referral Agency is a hybrid between big cleaning corporations and independent cleaners. We took elements of both types of businesses to create a win-win-win scenario for clients, cleaners, and company.
On the one hand, you have big cleaning companies who charge clients $45-$60 per hour per cleaner while paying cleaners only $10-$14 per hour. Where's the rest of the money going you ask? It's going to large office space, extra administrative help, TV commercials, company cars, uniforms, etc. On the upside, these bigger companies are prompt to answer the phone, eager to provide good customer service and have great communication systems in place to ensure your cleaners understand your specific needs.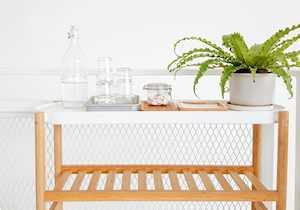 On the other hand, you have independent cleaners who are too busy cleaning to answer your call, you're not sure if they're paying their taxes and you don't know if how to find another good cleaner if they leave. On the upside, these independent cleaners chose cleaning as their career path and do excellent work, they are the same ones who keep returning to your home and know exactly what you like.
Dash of Clean Referral Agency brings the two concepts together. We provide top level customer service and support by handling your scheduling, billing/payments, work order notes and accounts professionally. We match your cleaning jobs to only qualified cleaners who have passed our strict screening registration process. Cleaners we work with must have professional house cleaning experience with a track record of satisfied clients, must have professional industry training and/or equivalent in work experience, must pass background screening and reference checks and must demonstrate qualifications to get do the job professionally.
We assist with referring other types of cleaning jobs you may need, just ask!
If you're not satisfied with the cleaning professional, we can match you with a different cleaner. Rather than trying out different cleaning companies, by working with Dash of Clean Referral Agency, you won't have to change your point of contact in order try out different cleaners. By having the freedom to request for a different match, you may find that the cleaners we work with are more quality conscious and accountable in order to keep you satisfied whereas an employee at a big cleaning company may not care as much if the company loses a client as it has minimal adverse effect on them personally.
Due to significantly low overhead expense, you will find up to 40% savings working with Dash of Clean Referral Agency and the cleaning professionals we work with are earning a better living than when they worked for cleaning companies in the past.
If you would like to get a no-obligation price estimate, click here.